Palace left it late but managed to squeeze past League Two Grimsby thanks to Goal Machine Jordan Ayew. Here are some things we learned from that 1-0 win.
Thank The Jord
Jordan Ayew continued his cracking start to 2019 with another goal, making it two in two and a 100% record for the new year so far. The Ghanaian has taken a lot of flack since joining on loan in the summer and most of it warranted but it should be said over the festive period he seemed to up his game, even though the goals didn't come.
Then there was the game at Wolves in midweek where it almost semmed like Roy had told him he had one more chance to impressed and impressed he did with a crucial goal.
Against Grimsby he was sent on for the final 20 minutes to make a difference (not a scenario most Palace fans would have been happy with in mid November) but he did just that with a bullet header. It should also be said both goals so far this year have been very well-taken.
Maybe, just maybe, we are starting to see the Jordan Ayew that did so well at Swansea and maybe, just maybe, we were a bit quick to write him off.
LISTEN: FYP Podcast EXTRAAA - Jordan Ayew scores again
A Sør Point
In contrast, another Palace striker really is struggling at the moment and that is Alexander Sørloth. An FA Cup third round game against a fourth division team should have been the perfect chance for him to show what he can actually do but he missed two guilt edged chances in the first half and by the second half looked like he didn't want to be there.
Sørloth hasn't scored any in 16 games since joining a year ago from Denmark and on current form doesn't look likely to. And yes I know I literally said above that we may have written Ayew off a bit early but at least Ayew has experience of scoring goals in the Premier League. Sørloth does not.
The transfer window has opened and Roy hinted after the game that a loan to a lower league side to build some confidence may be what the young Norwegian needs.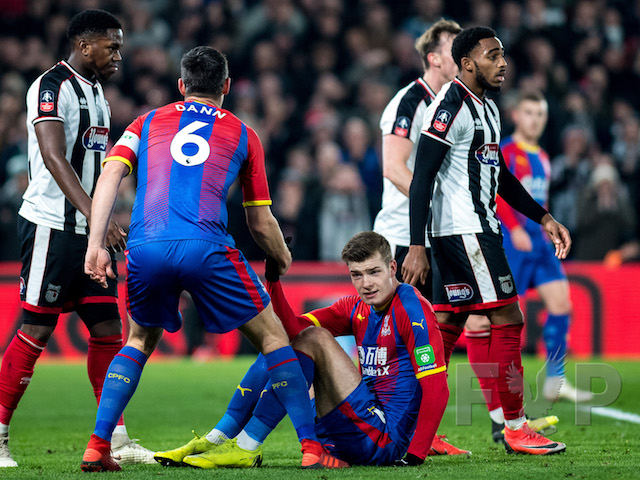 READ MORE: Crystal Palace's In and Out List for the Transfer Window
Nothing To Ad-Meyer
Along with Sørloth it was a game to give some more fringe players a chance to impress, even though Roy did start with Andros and Wilf up top, the latter a particularly surprising inclusion and thank the Jord he didn't get injured.
And while the likes of Scott Dann and Martin Kelly were as solid as we've come to expect and Jairo Riedewald was ok I guess, one man who didn't take his chance was Max Meyer. The little German midfielder is uber talented but against a League Two side you'd have expected him to grab hold of the game and make things happen and he really didn't.
It still feels like we haven't quite seem the best of Meyer yet although it's fair to say he hasn't been given many chances in his preferred position but let's be honest; what is that position? I'm still not sure.
READ MORE: Jason Puncheon: One of our Own and One of Palace's Most Important Players Ever
A Win is a Win
Despite all that, Palace are into the hat for the next round and that's two wins from two in 2019. Added to those seven points over Christmas from wins over Leicester and Man City it's been a decent month or so for Roy and Palace.
A win is a win especially when you are in that middle to bottom third of the Premier League and a cup victory at the start of the year certainly helps add to some positivity about the place.
Put it this way, imagine the meltdown if we'd have lost or drawn on Saturday?
---