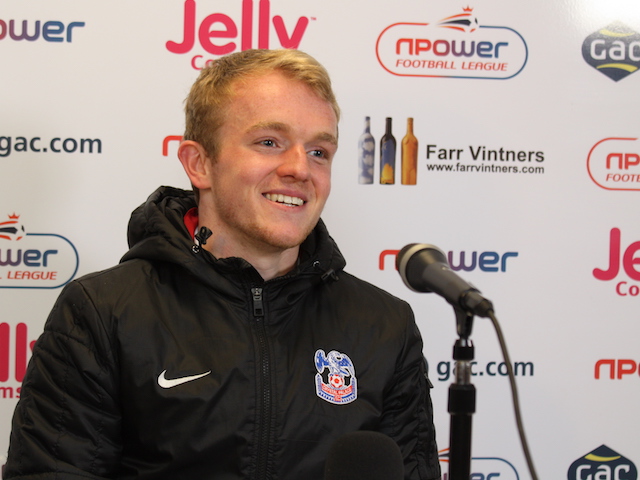 Oh Jonny, Jonny...
It was fitting that as one of the songs for Jonny William rang around Selhurst Park for what might be the last time during the FA Cup match against Grimsby Town, the match itself cried out for the Jonny Williams of old to take the game by the scruff of the neck, drive forward from midfield and either set up or score the goal that the match so badly needed.
It has been a very poignant January for Palace supporters already and we have not even reached the end of the first week of the transfer window. There has been plenty of social media comment (and Naveed Khan's excellent piece on this very website) already about Jason Puncheon's departure to Huddersfield Town and there is no denying that Jason will always be remembered as one of the key players in our longest ever stint in the top flight.
I don't think anyone could dispute that without him we would not have had the success we have had since 2013. For that, and for being Croydon born and bred, he will, in my, opinion, fall into the category of Palace legend.
Jonny Williams is a much different story. One which has a sad ending from a Palace perspective, but which equally has every Palace supporter sincerely hoping it will ultimately have a happy ending even if it is with another club- even Charlton!
I, like a lot of Palace supporters, remember well when Jonny came into the first team in Dougie Freedman's first (and only) full season as Palace manager. He was young, tiny, with a mop full of blond hair, a ready smile and clearly had bags of natural talent and skill on the ball. It was no fluke that his nickname was 'Joniesta.'
In addition he was utterly fearless, which sadly has been part of his undoing to date. I remember very clearly his tackle on Papa Bouba Diop, i.e., the Wardrobe, of West Ham in our home match, which ended up with Diop falling on top of Williams. I was genuinely afraid that Williams would be squashed like a fly having an iron land on top it! Up he bounced like nothing had happened and that, to me, summed up Williams.
For the remainder of that season and our promotion season Jonny was dogged by injuries but remained fit enough to have a positive and significant impact on both seasons. One of my other abiding memories is Jonny parading around the Wembley pitch holding aloft the Play Off Winners trophy- the blond hair and that grin clear to see even from the stands.
Unfortunately the tale of Jonny Williams takes a darker turn after that wonderful high point. Limited opportunities in the Premier League, a succession of loan spells and worst of all countless injuries has meant the past few years have not been happy ones for Jonny's career. There have been moments of light- his first stint with Ipswich in 2014-15 was a great success and I know of Ipswich supporters who were desperate for him to switch permanently after that first spell.
His performances for Wales during Euro 2016 including coming off the bench in their round of 16 victory over Northern Ireland showed the talent and ability was still there.
The rest of the time Jonny was either injured, on the bench or on less successful loans to a succession of Championship clubs. As the years passed the blond mop disappeared and the ready smile faded as the years of struggle took their toll. Many Palace supporters will have watched the clip of Jonny on the recent Sunderland TIl I Die documentary talking honestly about his difficulties.
It takes a lot of courage to be prepared to allow anyone, let alone, potentially millions of people watch you explain why life is not going as well as one had hoped. I certainly hope that same courage will help Jonny turn around his career to fulfill his clear potential.
Ironically Jonny's remaining injury free to date this season seems to be the catalyst for his permanent move away from Palace. Despite his availability he has not featured at all this season, other than the EFL Cup match against Swansea and it is therefore clear that he needs a fresh start.
The interview on the Palace TV with Jonny was painful viewing for me -- once again he was so honest and it was plain to see how hard it is for him to leave the club, even though he knows it is the right thing for his career. I felt like he was close to tears during the interview and to be honest I was as well just watching it.
I would hope that every Palace supporter would join me in wishing Jonny all the success he could possibly have in the future. It is the least he deserves. I would even go so far to say that if that success means that one day he scores against us (provided he does not celebrate it and it does not relegate us!) I would not mind that much.
---